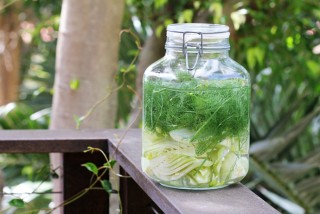 Well Preserved did a vodka infusion over the holidays. Unfortunately, they left the infusion in too long and the infusion went bitter. They didn't want to throw it away, so they tried to revive the bitter infusion. The found the following to work:
Don`t panic.  Don`t throw it out.  Keep calm.  Carry on.
Strain the entire lot through several layers of cheesecloth to remove any solids.  This worked well and lowered the bitterness from battery acid to that of a 9-volt battery.  Progress but not success.
Wait patiently.  Like preserves, taste can change over time.  It will likely get milder over a 30-day period.  I`ve been tasting it weekly and it`s calming down.
Dilute with more vodka.  An obvious remedy that I would have missed.
As a measure of last desperation, mix in sugar – I would create a simple syrup (water and sugar) to mix at the last-minute.